We are in that sweet spot between Signing Day and Spring Practice where the basketball gets interesting and baseball gets started. Check out my Sun Belt baseball preview here. The Georgia Southern news cycle never seems to slow down these days. It's hard to keep up with it all, so I'm going to use the buckshot approach and try to cover a little bit of everything.
Presbyterian canceled on us!
When I first heard from Tom Kleinlein on the National Signing Day broadcast that Presbyterian had been replaced by South Carolina State as the home opener, I (and a lot of other Southern fans) assumed it was because Presbyterian had voted to be non-scholarship starting in 2020. Turns out that theory was wrong.
According to the cancellation agreement obtained from Georgia Southern University by FBSchedules.com via a state open records request, Presbyterian College requested to cancel the game and the two schools mutually agreed to do so with no penalties or damages.
Hat-tip to FBSchedules.com for their digging on this story. It's not that I care one way or another, I actually prefer South Carolina State because it's closer to Statesboro, they'll bring more fans and one hell of a band. I have good memories from the last time we played them in the opening round of the 2010 FCS playoffs. But it is peculiar that Presbyterian requested the cancellation. Are the Blue Hose ducking us? Are these Hose still butt-hurt that we fired Presbyterian alum Tyson Summers? These Hose better answer some questions. These Hose are tryin' my patience.
Adrian Peterson hired as Director of Student-Athlete Development
Georgia Southern fans got some fantastic news Tuesday when it was announced that Adrian Peterson would be hired as the new director of student-athlete development. He takes over Andrew Dodge's spot after he was promoted to an on-field position for 2018. The 2017 College Football Hall of Fame inductee needs no introduction to Eagles fans. There are only two numbers that have ever been retired by Georgia Southern football: Peterson's #3 and Tracy Ham's #8.
Now both Ham and Peterson are working in the athletic department in some capacity. This is the OG Adrian Peterson we are talking about. He remains the NCAA's Division I all-time leading rusher with 6,559 yards in regular-season contests. If you throw in his playoff performances he carried the ball 1,378 times for 9,145 yards (6.6 avg), 111 touchdowns. Simply staggering numbers that may never be touched at the Division I level ever again. His responsibilities will include:
In his new role, Peterson will work closely with Student-Athlete Services to provide communication to the football staff on the academic progress of all 100-plus student-athletes on the team. He will also serve as a mentor for many players as they navigate their way through college with the end goal of every player earning his degree. He will also have a heavy hand in on-campus recruiting, APR other areas to be determined by Lunsford.
College Football Twitter was quick to pick up on the news, which was met with high praise. Lunsford, Cabral, Anderson, and Peterson are the new four horsemen. You couldn't create a coaching staff in a lab that gets Eagles blood pumping more than this one.
Charlie Harbison leaves for the NFL
On January 2nd, Charlie Harbison was named DB Coach by Chad Lunsford. On February 5th, he left Georgia Southern to take a job with the Arizona Cardinals. It is Harbison's first opportunity to coach in NFL, so I can't really blame him that much. If an NFL team came calling to hire me, you better believe I'd jump at the opportunity regardless of where I'm working. But it's still disappointing, Harbison is a good coach and recruiter. Expect Lunsford to make an announcement for his replacement in the coming days. Farewell Charlie, we barely knew ye.
Tormenta FC is building a stadium that will house GS Men's and Women's Soccer
Believe it or not, Statesboro has a professional soccer team, Tormenta FC. Even crazier than that is that it is owned and operated by my former Model United Nations adviser at Georgia Southern, Dr. Darin Van Tassell. Hey DVT, send me some gear please!
2018 will be the 3rd season of existence for Tormenta. They will compete in the PDL (essentially the 4th division of American soccer) for one more season before becoming founding members of the USL Division III. They also plan on building a spiffy new 5,000 seat stadium, which is potentially expandable to 10,000. Once completed, it will be the new home of Georgia Southern men's and women's soccer.
The club has filed plans to construct and released renderings of a new state-of-the-art 5,000-seat soccer-specific stadium in Statesboro, which will provide an exciting and authentic professional soccer experience for fans and players. The venue would also have the ability to host other sporting and entertainment events, and upon completion, the facility intends to be the home for the Georgia Southern University men's and women's soccer programs.
As Atlanta United proved last season, soccer is hot in Georgia right now. It is also a talent hot-bed. I'm proud of what Darin and his wife Neta have accomplished down there. I'm a big Atlanta United fan, but I think I found a new 3rd division club to root for. If they ever faced in the US Open Cup I would legitimately be torn.
Steven Fisk named to the Ben Hogan Award Watchlist
Way to GATA Steven! We've always had a good golf program. This perpetual cloudy weather in Atlanta has me missing the links.
Kevin Bostian leaves the fundraising department
"With the numerous accomplishments we've achieved in the fundraising department, it was only a matter of time before someone snatched Kevin Bostian from us and that time has come. Kevin joined the Athletic Foundation in 2015 as the Senior Associate Athletic Director for Development and also served as the Executive Director of the Athletic Foundation. In his time here, we've had record-breaking fundraising numbers each year. He will be missed greatly. I want to thank Kevin for all he did for this department and wish he and his family the best of luck on their move to Raleigh. We have already begun a nation-wide search for his replacement and hope to have that position filled by early spring."
BIG GAMES THIS WEEKEND
Basketball – Georgia Southern vs Georgia State, Statesboro, GA, Friday at 9 PM on ESPN2. The women's game starts at 5pm.
It will be a white out. There will be tailgating. Deputy AD Lisa Sweany has already given the Hanner Hooligans the green light to stand and be rowdy Friday night. As a Hanner Hooligan alum, I will be watching you kids. You better do us old farts proud. Anything less than an insane asylum is unacceptable. Let's beat the kitty kats.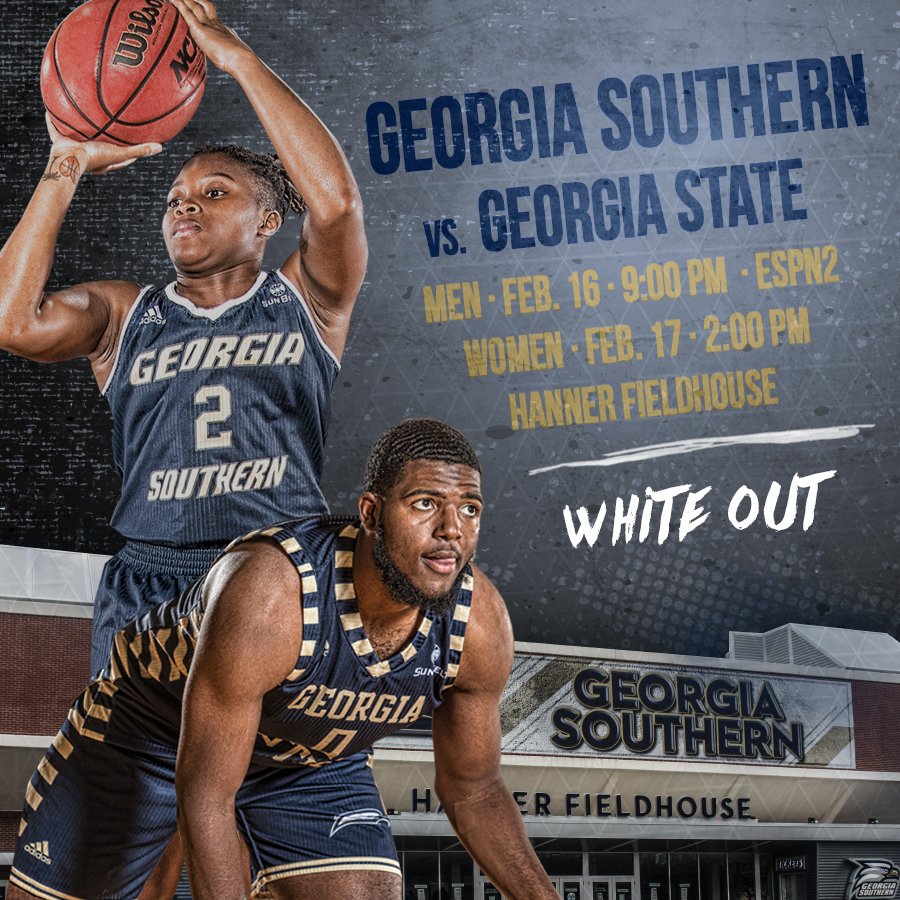 Baseball – Georgia Southern @ Georgia
Friday at 5 pm (Eichhorn vs. Smith)
Saturday at 1 pm (Shuman vs. Hancock)
Sunday at 1 pm (Cohen vs. Adkins)
UGA manager Scott Stricklin is on the hot seat after two consecutive losing seasons. They finished 12th out of 14 in the SEC last year. Georgia Southern's rotation is just flat out better than theirs. The Dawgs do have a power hitter at DH Michael Curry that made the preseason all-SEC team. The key for GS will be generating offense outside of 2B Steve Curry and OF Tyler Martin. Georgia Southern beats UGA baseball on the reg. I want to be there for at least one of this weekend's games. Should be a fun start to the season.