Football
The oasis in the desert of the college football offseason starts today on the banks of Beautiful Eagle Creek: spring practice. The Georgia Southern Athletic Department released a schedule and new guidelines for fans that want to attend the practices.
1) All practices are open to the public and the staff encourages all who want to come watch to come out and check things out!

2) Fans may enter the Beautiful Eagle Creek Practice Fields through the gate off Tillman Road. A parking lot is available as well.

3) While every practice is open to the public and media, we ask you help us keep a competitive advantage by not posting videos and detailed information from practice on social media.

4) Practice dates/times/locations are subject to change based on weather or other factors.
This adjustment is a breath of fresh air for Eagle fans. It is small, yet important fan-friendly change. Tyson Summers started off his tenure by making fans present an ID, sign-in, get a lanyard, and stay in a designated area to watch practice. Such draconian policies did not go over well among Eagle Nation. He eventually loosened those rules up, but you only get one chance to make a first-impression. The small things matter at Georgia Southern, it has always been a fan-first culture and Chad Lunsford understands this intimately.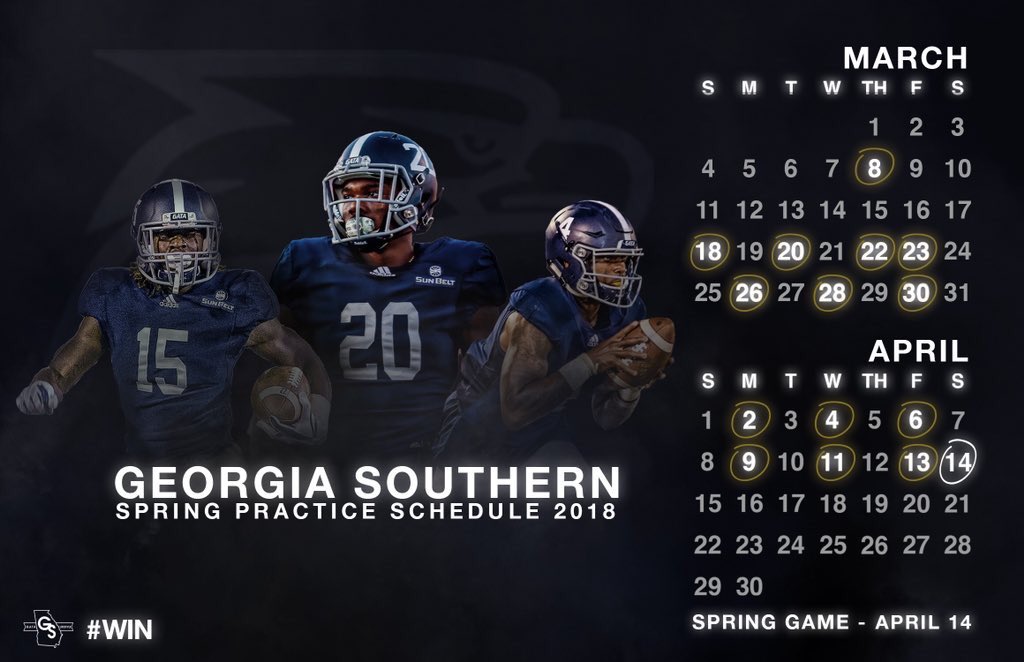 Whether it is taking pies in the face at the Rotunda for charity, or driving kids to class on his golf cart, or his adept use of social media; Coach Lunsford has not been afraid to put himself out there. He has a swagger that players and fans alike eat up. A certain segment of the fanbase was not sold on the Lunsford promotion when it was announced. But that group of doubters has grown smaller and smaller over the past three months.
Furthermore, his open, yet intense style of peer-led motivation feels like medicine for the ills that have befallen the program since 2016. Coach Lunsford is making his sales pitch to Eagle Nation and it is starting to buy in more and more each day. The sale won't be over until he starts winning bowl games and conference championships, but there is only so much you can accomplish in one offseason.
Speaking of accomplishments in the offseason. The #GATALifestyle account has been posting some sick videos of what S&C coach Matt Greenhalgh & company have been doing in the weight room and it's worth a look.
You can see the peer-led intensity I'm talking about right there. Lunsford is a players coach, that much has been established. But that does not mean he is lax. He requires the players to push one another and to work as a unit. It is positive reinforcement. Coach Lunsford has handed down his mandate for how he wants things to operate and his coaching staff is executing the vision. It feels like a return to the Monken era. Hope to see some of y'all down there for the Spring Game.
Men's Basketball
I'm going to start things off with this unworldly shot that Tookie Brown made against Troy Saturday.
It's easy to see why he was named Sun Belt Player of the Week. On top of that crazy shot which landed at #3 on SportsCenter Top Ten, Tookie averaged 23 ppg, 8 ast, and 7 rebs last week. He was also named first-team All-Sun Belt for the third straight year, you can go ahead and pencil the junior PG in for a fourth next year, barring unforeseen circumstances.
The Eagles 2-0 week secured their first 20-win season (20-11, 11-7) since '14-15 and a three-seed in the SBC tournament in New Orleans. If Georgia Southern can get past 6-seed ULM (16-14, 9-9) on Friday Night, then that would set up a possible rubber-match with Georgia State in the semifinals.
GS lost their only matchup to ULM 66-64 on February 8th. ULM is no easy out. Eagle Nation is counting on their floor-general Tookie Brown to lead the program back to the NCAA tournament for the first time since 1992. Tough opponents stand in the way. The Sun Belt Finals will be aired on ESPN2 at 2 p.m Sunday.
Women's Basketball
The Women's team fell 88-81 in a heart-breaking triple-OT matchup with 6-seed ULL (16-15, 10-8). The Eagle women finished the season with a 5-25 record, 2-16 in conference.
Women's Rifle
Georgia Southern Rifle finished the 2017-18 season with an impressive performance at the 2018 Southern Conference Rifle Championships. Rosemary Kramer, Courtney Weekley and Lydia Odlin scored All-SoCon honors. Rosemary Kramer was named First Team All-SoCon and the Air Rifle Athlete of the Year.
Softball
Eagles Softball has been crushing it this season under new coach Kim Dean. She was brought over from Armstrong during the consolidation, along with several others. She went 38-14 in her last season with the Pirates and guided them to a 3rd place finish in the DII National Championships. The "Dean of Softball" has proven herself more than worthy of the promotion and has the Lady Eagles 13-6 heading into conference play. They will be travelling to Troy for a three-game series starting Friday at 3 p.m. It will be a doubleheader due to anticipated rain this weekend.
Baseball
Baseball beat Holy Cross (shout out to Bill Simmons's Alma mater) 10-5 Wednesday to improve to 7-6 on the season. Most notable aspect of yesterday's game was the fact that three pitchers for Southern went to Statesboro High School, Braxton Johns, Griffin Davis, and Austin Kleinlein. TK's son Austin pitched the 7th and 8th innings, striking out two batters and giving up one run. Braxton Johns picked up his 2nd win of the season.
Baseball heads to Hattiesburg this weekend to face Southern Miss. The three-game series starts Friday at 7 p.m. ET.
Golf
Men's Golf finished 2nd place at the Cleveland Golf Palmetto Intercollegiate Tuesday. The Eagles host 39th annual Schenkel Invitational is next at the Forest Heights on March 16-18.
Men's Soccer
Men's Soccer continues their Spring schedule. They travel to Atlanta to take on Clayton State and the Atlanta Silverbacks in a doubleheader on March 24th. As a current Silverbacks season tickets holder, expect me to be there to watch. Both games will at Laker Field in Morrow. Then Georgia Southern travels to Charleston on March 31st to face Queens (NC) at 4:50 p.m. and the College of Charleston at 6:10 p.m.
The Eagles then have a couple home matches in April, Oglethorpe on April 7th at 4 p.m. and the annual Alumni Game on April 21st, also at 4 p.m.