Georgia Southern's fans are a confident bunch. Some would call us cocky or even arrogant; say what you want about us, but our football program has spoiled us. We are used to success, we expect it, we crave it.
So naturally when Georgia State announced it was starting a football program in 2010, most of us considered them to be a non-factor. Did they have potential to be successful? Sure. But we knew that success does not come overnight. It would take at least a decade for them to build up a program to the point where they could be considered our peers. Could you blame us? We had a record 6 national championships at the FCS/I-AA level.
Little did we know, success wasn't a requirement to join FBS. Despite going 10-23 in their first three years of existence and drawing fewer fans than some local high schools, the Sun Belt admitted them in 2013. Eagle Nation was at DEFCON 3. How could "that school up north" accomplish in three years what Georgia Southern couldn't in 30? Are media markets really that important in college football, a sport centered on dozens of small, rural college towns? Apparently so.
I gotta give Georgia State some credit though. If they hadn't made that ballsy, yet ill-advised, move to FBS, Georgia Southern would probably still be slumming it in the SoCon. It forced us to get off our ass and starting preparing for FBS, a move we should have made in 2001, maybe even 1991.
Be that as it may, once we joined the Sun Belt in 2014 and finally got a chance to play Georgia State, I expected to wipe the floor with cat fur for at least a solid decade, if not more. 2014 went according to plan, when the Eagles invaded the Georgia Dome, won 69-31 and unfurled the infamous "Paulson Stadium North" banner.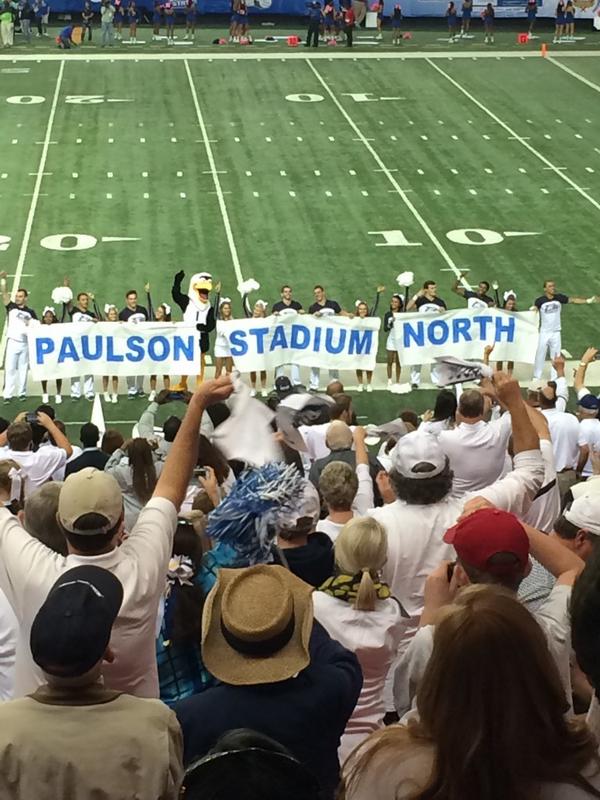 That remarkable display of hubris set the table for what would happen the next three seasons. In 2015, the Panthers handed the Eagles the largest ever loss in Paulson Stadium, 34-7. Willie Fritz had accepted the Tulane job earlier that week and the players came out flat and uninspired. To date, the biggest black-eye on the Fritz era. Once Fritz left, Tyson Summers came in and two more losses to Georgia State followed. The nightmare had become real.
Losing to Georgia State once was bad enough, but three straight years? Unfathomable. It's especially painful for the large segment of Eagle Nation that lives in the Atlanta area, surrounded by Georgia State alums. A loss to App State is one thing, they are our peers and I only bump into a Mountaineer fan once in a blue moon. But a loss to the inner city kitties is almost too much for an Eagle fan to take. State fans/alums who never set foot inside a university-sponsored athletic event are talking trash to me. This has got to stop.
That's why Saturday's 35-14 victory over the Panthers was so important. Southern fans took over Turner Field in a way that reminded me of the 2014 takeover of the Georgia Dome. At one point they were so loud in one endzone that Georgia State was having problems communicating the playcalls. They even got a few Tomahawk chops going in the Atlanta Braves' old stadium.
It was a methodical, yet total dismantling of Georgia State. Scoreline is not indicative of how lopsided it really was. The score was 28-0 before Georgia Southern took their foot off the gas. It is exactly what we all needed to remove the memory of the past three years from our minds. The perfect way to end a remarkable turnaround season. The cherry on top of the sundae.
To give you a better idea about how we feel about Georgia State, here is the People's Champ himself, Chad Lunsford:
Wouldn't even dignify the Panthers with an elbow. That's cold. This is only part 1 of the vendetta against Georgia State. Unbelievably the Eagles have never beaten them in Paulson Stadium. We'll have to wait till next year for that.
What does this win mean in the big picture?
9-3 regular season, 6-2 in conference. A 7-win improvement from last season, among the best single-season turnarounds in FBS history. With 10 wins in range.
Statistical improvements across the board. Name the category, Georgia Southern improved by leaps and bounds from last year.
9 wins by Chad Lunsford is tied for 2nd in the country among first year head coaches. Only UCF's Josh Heupel has more.
Eagles are going bowling for the first time since 2015, we'll find out where next Sunday during the bowl selection show (unless it leaks beforehand). My guess is either Orlando or Montgomery.
Marquee wins against App State and Arkansas State. Revenge wins against Coastal Carolina, New Mexico State, and UMass as well.
Several dented folding chairs. Pride and dignity restored to the program. New traditions created.
This is just year one of the Chad Lunsford experiment. Now he has a full year of head coaching experience under his belt. He will have a full staff set for an entire offseason for the first time. Last year he hauled in the best recruiting class in the Sun Belt, there's no telling what damage he could do with a full staff and more time at his disposal. The cupboard isn't exactly bare either. Georgia Southern will enter 2019 as the favorites to win the Sun Belt, and possibly more. I for one, can't wait.